Brisbane's traditional Indian healing centre for relieving your aches, pains and injuries.
A range of Kalari Chikitsa and Ayurvedic treatments are available to treat and prevent your aches, pains and injuries, and to enhance your overall health.
Kalari Ayurveda Centre provide these treatments with experience, expertise and an emphasis on tradition.
Ayurvedic detox and rejuvenation programs
Long-standing and chronic conditions require a more comprehensive treatment plan. We offer individualised programs which combine a series of daily in-clinic ayurvedic treatments with ayurvedic herbal medicine and diet.
Warrior Healer
Kalari Ayurveda Centre is founded by Master Biju Nair, a traditional Indian healer and martial arts master from Kerala in southern India.
He is a pain and injury management specialist using Kalari Chikitsa and Ayurveda. With almost 25 years of experience he has treated thousands of people in Australia and India using these methods.
Kerala Ayurvedic Doctor
Dr Leny Prabhath is a highly qualified Ayurvedic Doctor from Kerala in Southern India. She has studied Ayurveda for 8.5 years and ran her own outpatient clinic in Trivandrum, Kerala.
She has a Bachelor of Ayurvedic Medicine and Surgery from University of Kerala, and a Postgraduate degree in Ayurvedic medicine making from Kerala University of Health Sciences.
Common conditions we treat
Our treatments are highly effective in treating a variety of painful conditions, including, but not limited to:
Back, neck, shoulder, knee pain | muscle and joint pain and stiffness | sports injuries | acute and chronic pain | frozen shoulder | arthritis | sciatica | headaches | plantar fasciitis.
Treatments are also beneficial for reducing the risk of injuries, enhancing physical performance and maintaining optimal health.
We are located at
30-32 Nandala Drive, Tanah Merah,
in a tropical rainforest, halfway between Brisbane and the Gold Coast.
To book an appointment or find out more about how we can help you
Traditional Indian healing and martial arts
Ayurveda
Traditional Indian Medicine
Originating in India, Ayurveda is one of the oldest, most comprehensive health systems in the world. While Ayurveda provides a vast guide of practical advice and wisdom on almost every aspect of your health, Kalari Ayurveda Centre specialise in its use for pain and injury management.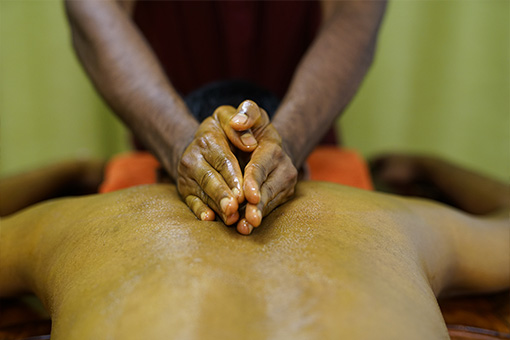 Kalari Chikitsa
Traditional Indian Sports Medicine
Kalari Chikitsa is an ancient system of musculoskeletal treatments. Originating in Kerala in Southern India, Kalari Chikitsa was developed to benefit the warriors of Kalaripayattu. The techniques that were used to treat the ancient warriors are also highly effective in the treatment of modern day aches, pains and injuries.
Kalaripayattu
Traditional Indian Martial Art
Kalaripayattu develops the body and mind through a powerful flowing practice. It is a comprehensive system that was originally designed to create an expert warrior. Classes are available at our Brisbane school, Australian School of Kalaripayattu.
Types of Kizhi in Ayurveda and Kalari Chikitsa
Kizhi is a technique used in the management of various pain related conditions affecting the musculoskeletal and neuromuscular systems. A Kizhi is a poultice that is densely packed with herbal ingredients. There are many varieties of Kizhi and the name is given based on the ingredients tied within the poultice.
Why traditional medicine making is part of Kalaripayattu training
Herbal medicine has always been a part of Kalaripayattu, the traditional martial art of Kerala. For a Kalaripayattu student, traditional medicine making is an integral element of their physical and mental training.
Marma in Kalari Chikitsa
At Kalari Ayurveda Centre, marma applications are an important part of our treatments for injuries and pain-related conditions. Our method of marma applications comes from the martial arts tradition in Kerala, southern India.
Ayurvedic herbal oil for pain and injury treatments
We use a wide variety of herbal oils in our treatments for pain and injury management. The herbal oils used and their applicaton will depend on the location, stage and cause of your condition. The correct choice of oil is vital in the effectiveness of traditional Ayurvedic treatments.