For serious or chronic pain, a consultation is required before commencing treatment. This is so a thorough assessment can be performed and a program specific to your condition can be designed.
Please contact us if you have any questions about whether you will require a consultation.
Your consultation will consist of:
1. A thorough assessment of your pain, injury or discomfort.
2. A detailed explanation of the underlying causes of your condition.
3. Development of a suitable course of treatment. This treatment program may consist of:
Kalari Chikitsa
Ayurvedic treatment
Ayurvedic herbal medicine
Diet modifications
Exercise and flexibility program
Ayurvedic consultations are also available with our Ayurvedic Doctor. Dr Leny Prabhath is a highly qualified Ayurvedic Doctor from Kerala in Southern India. She has studied Ayurveda for 8.5 years and ran her own outpatient clinic in Trivandrum, Kerala.
She has a Bachelor of Ayurvedic Medicine and Surgery from University of Kerala, and a Postgraduate degree in Ayurvedic medicine making from Kerala University of Health Sciences.
Dr Leny treats most health conditions and specialises in
• Male and female reproductive health
• Digestive problems
• Skin conditions
• Respiratory disorders
• Geriatric care
• Stress and anxiety
She is available at Kalari Ayurveda Centre on Saturdays and Sundays for Ayurvedic consultations, massage and therapies.
Price for 60 minute consultation
$85
Price for 30 minute consultation
$50
For more information about Ayurvedic Consultations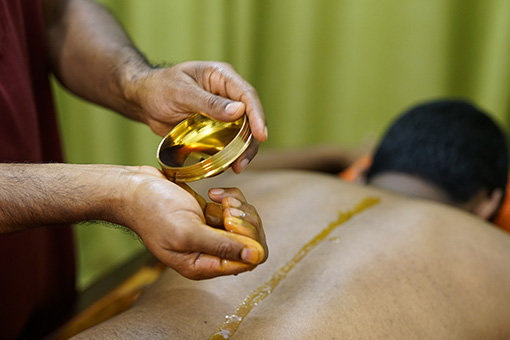 Treatments
A range of Kalari Chikitsa and Ayurvedic treatments are available to treat and prevent your aches, pains and injuries, and to enhance your overall health.
Ayurveda
Traditional Indian Medicine
Originating in India, Ayurveda is one of the oldest, most comprehensive health systems in the world. While Ayurveda provides a vast guide of practical advice and wisdom on almost every aspect of your health, Kalari Ayurveda Centre specialise in its use for pain and injury management.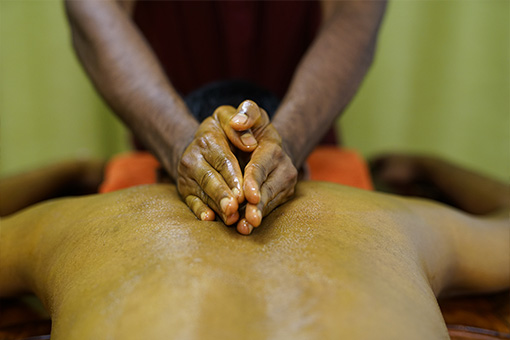 Kalari Chikitsa
Traditional Indian Sports Medicine
Kalari Chikitsa is an ancient system of musculoskeletal treatments based on Ayurveda and Siddha Veda. Originating in South India, Kalari Chikitsa was developed to benefit the warriors of Kalaripayattu. The techniques that were used to treat the ancient warriors are also highly effective in the treatment of modern day aches, pains and injuries.