Thousands of years old, Ayurveda is a traditional medicine system from India. It is one of the oldest continuously practiced traditions of medicine in the world.
Ayurveda for pain and injury management
While Ayurveda provides a vast guide of practical advice and wisdom on almost every aspect of your health, we specialise in its use for pain and injury management.
A range of Ayurvedic treatments are available to treat your aches, pains or injuries, and address the underlying cause. Treatments give you relief from pain, stiffness and inflammation, increase range of motion, and strengthen and rejuvenate joints, muscles and soft tissue.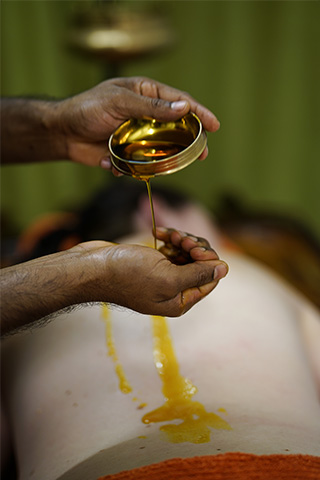 Treatments are highly effective for a variety of conditions, including, but not limited to:
Back, neck, shoulder and knee pain
Muscle and joint pain and stiffness
Acute and chronic pain
Sports injuries
Frozen shoulder
Arthritis
Sciatica
Headaches
Plantar fasciitis
Treatments are also beneficial for reducing the risk of injuries, enhancing physical performance and maintaining optimal health.
Our Ayurvedic treatments are practised in the traditional way without reinvention or dilution.
They include a range of massages, therapies, herbal oils, pastes, poultices and heat therapies. Ayurvedic herbal medicine and dietary, lifestyle and daily routine modifications are also prescribed when necessary.
With the array of methods available, treatments are customised to you as an individual, your condition and your goals.
Who gives the Ayurvedic treatments?
Master Biju Nair is an experienced and qualified Ayurvedic practitioner and Panchakarma therapist, from Kerala in Southern India. He has provided treatments in Ayurvedic clinics, resorts and traditional centres in Kerala, Bangalore and Brisbane.
Apart from his formal Ayurvedic qualifications, Master Biju's practical and hands-on approach to Ayurveda come from his traditional training. From the age of thirteen, he spent seven years training under his village's traditional healer and martial arts master. He then went on to train and work under his Grandmaster through the Gurukula system for four years. In this Kerala tradition, the martial arts master is also the healer, treating the martial artists and the general public for their injuries and pain-related conditions.
Following this tradition, Master Biju specialises in traditional Indian medicine, including Ayurveda, for pain and injury management. With almost 25 years of experience, he has treated thousands of people in Australia and India using these methods.
Dr Leny Prabhath 
is a highly qualified Ayurvedic Doctor from Kerala in southern India. She has studied Ayurveda for 8.5 years and ran her own outpatient clinic in Trivandrum, Kerala.
She has a Bachelor of Ayurvedic Medicine and Surgery from University of Kerala, and a Postgraduate degree in Ayurvedic medicine making from Kerala University of Health Sciences.
Dr Leny treats most health conditions and specialises in
• Male and female reproductive health
• Postnatal care
• Digestive problems
• Skin conditions
• Respiratory disorders
• Geriatric care
• Stress and anxiety
• General wellbeing
She is available at Kalari Ayurveda Centre for Ayurvedic consultations, massage, therapies and Ayurvedic detox and rejuvenation programs.
To find out more about how Ayurveda can help you
Learn more about Ayurveda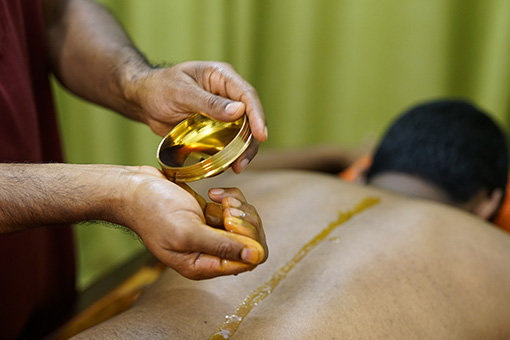 Treatments
A range of Kalari Chikitsa and Ayurvedic treatments are available to treat and prevent your aches, pains and injuries, and to enhance your overall health.
Ayurvedic herbal medicine for pain relief
Ayurvedic herbal medicine is used to enhance the benefits of your treatment. Our specialised herbal formulas relieve pain and stiffness, reduce inflammation and swelling, and help tissue regenerate.
Ayurvedic herbal oil for pain and injury treatments
We use a wide variety of herbal oils in our treatments for pain and injury management. The herbal oils used and their applicaton will depend on the location, stage and cause of your condition. The correct choice of oil is vital in the effectiveness of traditional Ayurvedic treatments.
Ayurvedic detox and rejuventation programs
Long-standing and chronic conditions require a more comprehensive treatment plan. We offer individualised programs which combine a series of daily in-clinic ayurvedic treatments with ayurvedic herbal medicine and diet.
Heat therapy for pain relief in Ayurveda and Kalari Chikitsa
Heat therapy is an important method for pain relief used in Ayurveda and Kalari Chikitsa. The therapeutic use of heat relieves pain, decreases muscle spasm, relaxes muscle tension and can increase range of motion.
Theory of pain in traditional Indian medicine
Traditional Indian medicine gives a guide for how pain manifests in your body, and how it can make you more susceptible to injuries.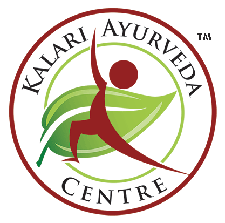 About us
Kalari Ayurveda Centre uses the traditional Indian healing systems of Ayurveda and Kalari Chikitsa to effectively treat your aches, pains and injuries.
Location
30-32 Nandala Drive,
Tanah Merah Qld